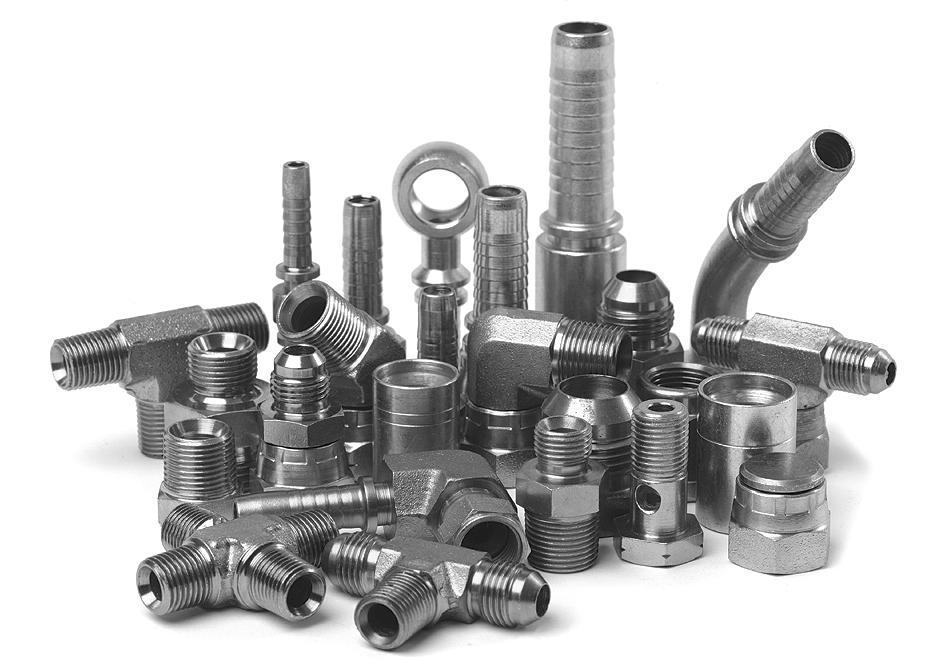 Established in New Zealand in 1991, Fluid Connectors specialise in the manufacture, warehouse and supply of hydraulic adaptors, fittings, hosetails and accessories. In addition to a quality product at a competitive price, Fluid Connectors offer arguably the highest level of service of any player in Australasia.
With over 100 years combined experience in the hydraulics industry amongst management and staff, Fluid Connectors have grown to be a respected supplier of product into the Australian, New Zealand and North American markets.
Fluid Connectors operate our own modern manufacturing facility in Auckland, New Zealand and our warehouses in Auckland New Zealand and Perth Australia, house the best stockholding in Australasia, meaning we are able to provide excellent product availability. In addition we offer 'specials' made to order.
Fluid Connectors utilise a full range of measuring and testing equipment. Customers can be assured of our products' suitability for purpose and guaranteed that products will meet or exceed any relevant international standard.
Our Auckland warehouse operates from 7:30am to 5pm (NZDT), however a call out service is available 24/7.
Our Perth warehouse operates from 6.30am to 4.30pm (AWST). We can also same-day dispatch orders received up until 6pm (AEST).
---
WHY FLUID CONNECTORS?
OUR OBJECTIVE
Fluid Connectors' objectives are simple, but challenging. It is our aim to be The No.1 Choice of Supplier of Hydraulic Adaptors and Fittings in Australia and New Zealand. We continue to expand our Hydraulic Adaptor product range, with a current count of 7,400 'on the shelf' product lines (in useful quantities). Fluid Connectors – The Right Connector, The Right Price.
THE RIGHT HYDRAULIC FITTING
At Fluid Connectors, we pride ourselves in delivering what you order, when you order it. Our hydraulic fitting will be fit for purpose. Our quality inspections, manufacturing processes, practises and business systems are designed to assure quality is a pre-requisite and our culture. Fluid Connectors has a zero tolerance for compromise. All product is manufactured to meet international standards and recognised industry norms. Fluid Connectors has been assessed and approved by QAS International to the management systems, standards and guidelines of ISO 9001:2015.
Buy your fittings from Fluid Connectors and you can be assured you will get The Right Connector for the job.
THE RIGHT PRICE
Our pricing is very competitive – we offer quality fittings at competitive prices.
Buy your fittings from Fluid Connectors and you can be assured you will get The Right Price.
THE FLUID CONNECTORS BRAND
To assure customers of quality Fluid Connectors parts, we have labelled product with the Fluid Connectors' Tick of Confidence. Where you see this brand, you can be assured that the product it is endorsing is Fluid Connectors' product and can be trusted.
FUTURE
Fluid Connectors will continue to grow over the coming years, with an ongoing expansion of our product range. The Fluid Connectors' name will become more widely known and relied upon. Our flexible manufacturing plant will continue to be recognised for its ability to respond to customers' needs, including producing special parts and getting those parts where they are needed, rapidly, throughout Australia and New Zealand.
---
 Fluid Connectors - Your No. 1 Choice for Hydraulic Adaptors and Fittings throughout Australia and New Zealand
---
HISTORY
Fluid Connectors was founded in 1991, importing and marketing hydraulic fittings from Oreri Point, New Zealand. In 2000, following steady growth, Fluid Connectors established offices in shared premises in Newark Place, East Auckland.
In 2001, Fluid Connectors obtained its first CNC lathe, allowing the company to manufacture fittings. From this, Fluid Connectors were able provide customers with enhanced levels of response, and reduced the business' dependency on imported products. Adding United States customers to its base, the company went from strength to strength.
Continued growth saw Fluid Connectors moving to Lorien Place, East Tamaki, Auckland in 2002. The same year Fluid Connectors absorbed Gulf Manufacturing – an established manufacturing company with a product mix biased heavily towards hydraulic equipment. Fluid Connectors expanded its manufacturing capability, with added plant and products.
In late 2003, more plant was added and in April 2004 Fluid Connectors expanded into Australia, opening an office in Perth, Western Australia.
In November 2005, Fluid Connectors added two state of the art Bar Feed CNC Lathes to its plant and moved from Lorien Place to Smales Road, East Tamaki, Auckland. Having had to utilise outsourced storage for much of its raw materials, the move meant Fluid Connectors was able to centralise its complete New Zealand business, manufacturing and warehousing in one building, close to key infrastructure and suppliers.
In 2005 the company also commissioned its new Production Plus manufacturing software. This further enhanced the factory's responsiveness through better tracking, planning and management of the manufacturing process.
In June 2006, Fluid Connectors WA had expanded to a level that required it to move from sub-let premises to its own warehouse facility at Hector Street, Osborne Park.
By continuing to offer and provide unparalleled service throughout the Australian market, Fluid Connectors WAflourished. Ongoing growth lead to a doubling of the Western Australian premises. These expansions were finished in late 2008.
In 2011, Fluid Connectors NZ move to Polaris Place, East Tamaki as demand had once again meant the business had outgrown its premises. The new location allowed for subsections of the building to be separated and dedicated to manufacturing, sales/store and warehouse. Another two CNC lathes were added and a 9th lathe ordered, with delivery in early 2012.
2011 also saw Fluid Connectors WA commence construction of a new dedicated building to provide much needed space for the Australian operation. This building came on line in mid-2012 and increased space by 50%.
In 2014, the addition of comprehensive series of metric connectors, quick couplers, hydraulic tube, tube clamps and flange blocks dramatically enhanced Fluid Connectors' product range.
Fluid Connectors also started the process of qualification under ISO 9001 and 1901.  Meeting this standard would provide assurance to customers (particularly growing export customers) of Fluid Connectors' commitment to quality.
In 2015, Fluid Connectors achieved ISO 9001:2008 accreditation. Customers can be assured that Fluid Connectors has been assessed and approved by QAS International to follow ISO 9001:2008 management systems, standards and guidelines.
During 2017 the construction of a new mezzanine floor for Fluid Connectors WA took place. This development increased available space in Perth by more than 30%. The new space has been utilised for additional stock storage, allowing Fluid Connectors WA to increase product range and stock holding to cater for ever increasing demand in Australia.
2017 also saw the purchase of a robotic arm for loading CNC lathes at Fluid Connectors' manufacturing plant in Auckland, NZ. This development demonstrates Fluid Connectors' ongoing commitment to automation and the future of hydraulic fitting manufacturing.
During 2017, Fluid Connectors also transitioned to ISO 9001:2015. Once again, we welcomed external auditors into the company to assess and approve Fluid Connectors' management systems, standards and guidelines, exhibiting our ongoing commitment to quality.
2018 promises to be another big year for Fluid Connectors, with the purchase of the latest DMG Moriseiki Twin Spindle Lathe and an Iemca High Speed High Rigidity Rapid Change Bar Feeder already confirmed. This is due to arrive in May and will increase production and capacity and will be another step forward in automation.
---
 As Fluid Connectors continues to grow rapidly, we endeavour to continue to be your No.1 choice of supplier of hydraulic fittings and adaptors in Australia and New Zealand. Our customers are and will always be our first priority. We strive to be leaders in our industry, providing quality product, service and stock holdings to enable our customers to do the same.
Let's get to work.
---